You are currently browsing the category archive for the 'Bridesmaids' category.
Today Anthropologie launched their much anticipated online wedding dress shop, BHLDN. While the prices aren't what I consider budget friendly the designs are fabulous and very inspirational. I am loving these…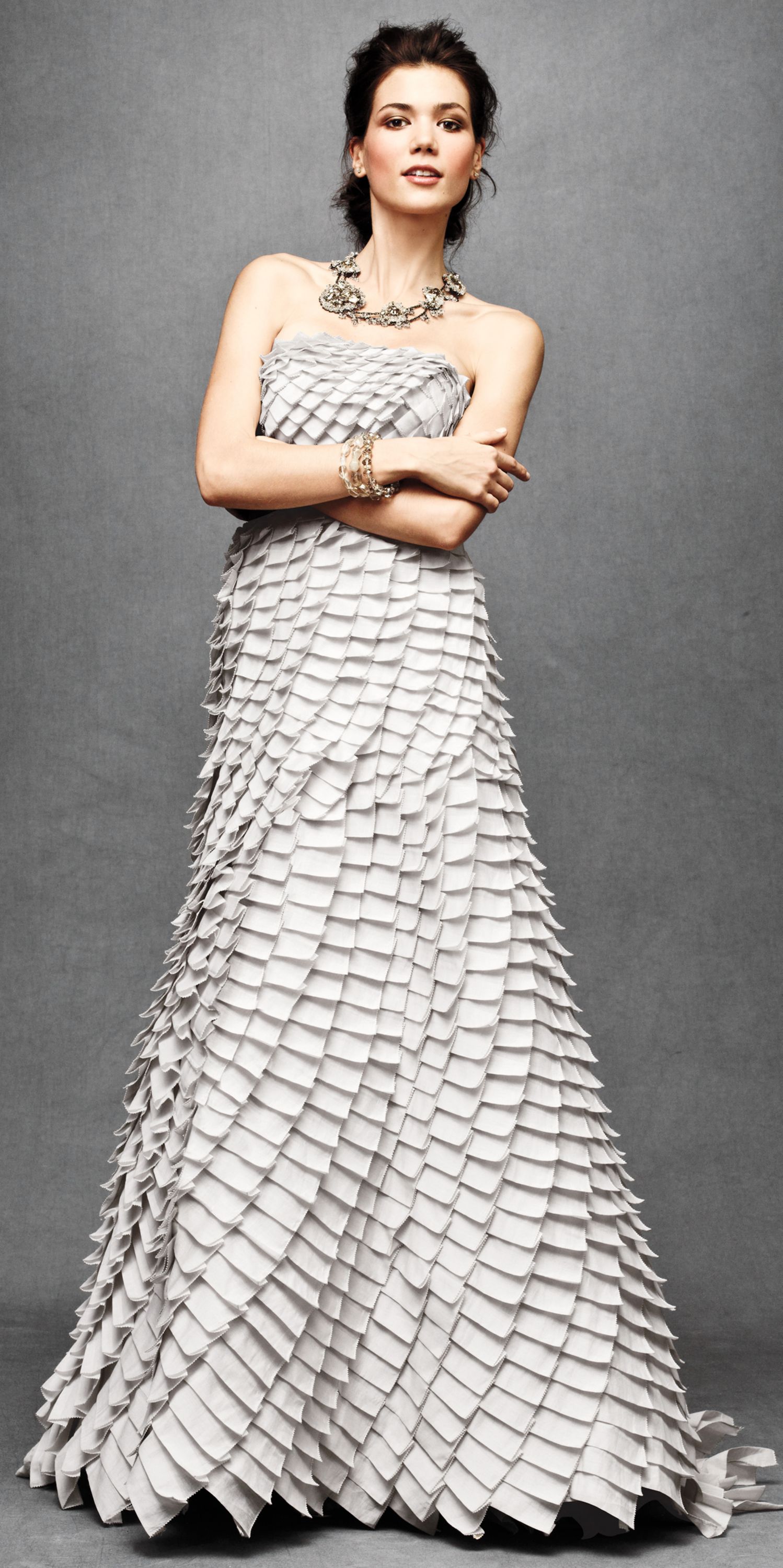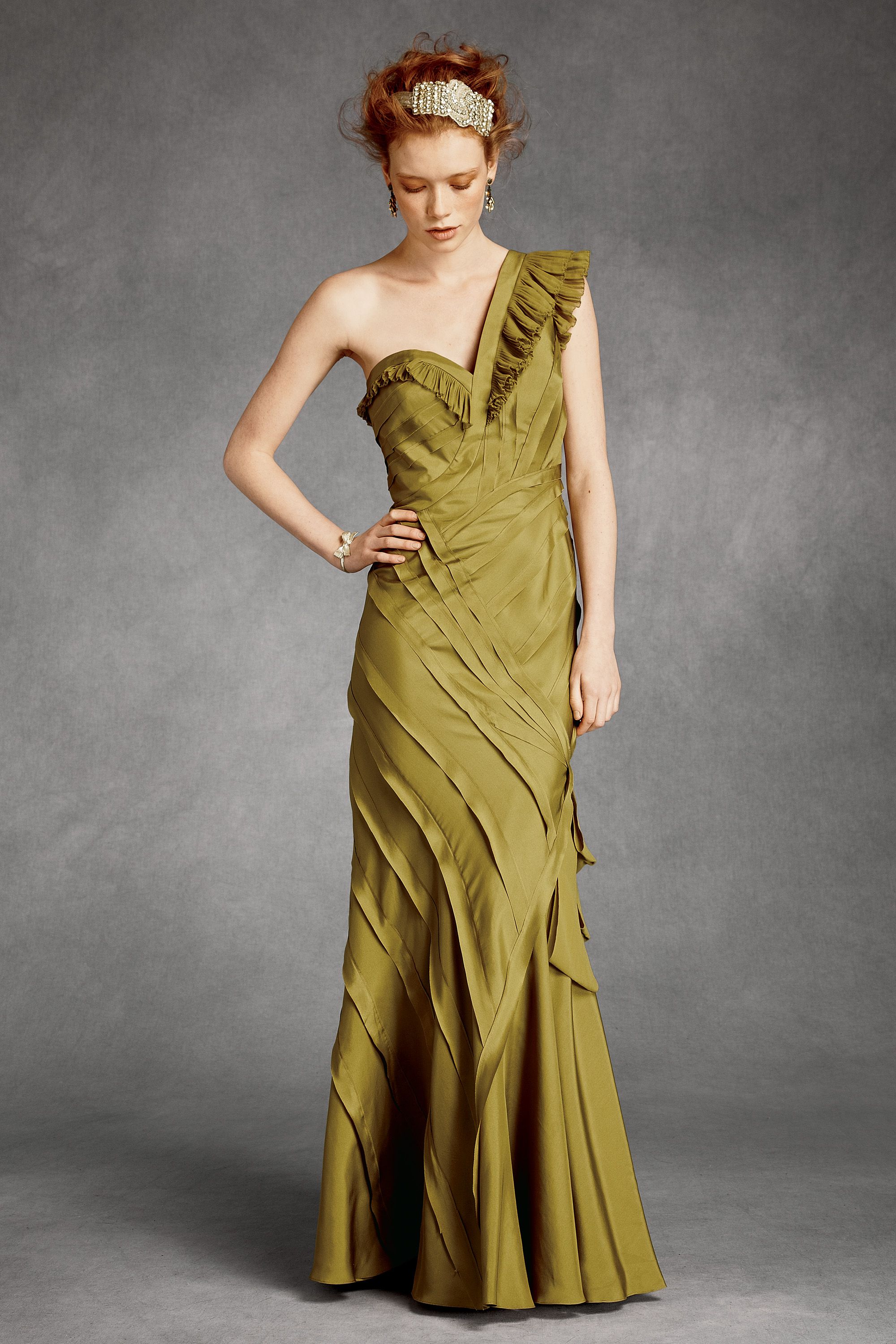 Aside from gowns they also have chic dresses and accessories that go far beyond the altar.  You can view the entire collection here.
While we are on dresses I have to highlight a few of my Grammy favorites. I have to admit I felt a wave a jealousy roll through me when I saw Rhianna was wearing Dior Haute Couture's handpainted and embroidered silk taffeta dress. I have been in love with that dress ever since spying it in the October issue of W.

Kelly Osborne looked fabulous in this purple ruffled Tadashi Shoji but my runner up to the Dior gown had to be the layered chartreuse frock worn by Best New Artist winner Esperanza Spalding.

Hmm…looks like I am having a ruffle moment. Happy Valentine's Day!
We are all guilty at one time or another of not being able to find exactly what we are looking for. Once you have an idea in your head, nothing else will do especially when it comes to your wedding. Couples want their wedding to be unique and personal making it extremely hard to just pick something off the rack. If you are spending hours upon hours searching for the perfect anything, I strongly suggest you check out Etsy.
Just about anything in every price range can be found on Etsy, making the site very budget friendly. Plus, the sellers are accessible. If you find the perfect bracelet but it is slightly out of your price range. You have the opportunity to contact the seller, you can ask them if they can do a similar design in your price range. Perhaps they can use crystals instead of gemstones? However, do keep in mind that these artists skillfully craft their products from top quality materials when asking for a scaled down piece.
Feel an important need to support local business? Etsy makes it extremely easy to find a local vendor that suits your needs with their Shop Local feature. You can search by city or state to discover a local business owner whose product suits your needs. A definite plus when using a local vendor they may allow local pick-up to avoid shipping costs and you might even be able to see the item in person prior to purchasing.
After combing through the plethora of products on Etsy you still don't see exactly what you are looking for there is another option. The site offers a custom request opportunity through Alchemy. Here you can list a custom request complete with images for inspiration and your ideal price. Etsy sellers will then bid on your listing and you can select the one you would like to make the item. This is a great way to guarantee you will get exactly what you are looking for and be the only one to have it.
Of course, Etsy isn't just a wedding resource. It is a great place to find just about anything.
Since I love paper and am always looking for an easier, cheaper, greener way to create, it only seems natural that my latest obsession is paper flowers. I have an upcoming party where I am hoping to use paper flowers for the décor. I am using coffee filters and have tried painting them which is tedious and does not result in the look I was going for. I decided to try dyeing them. Here is how I did it using RIT dye.
Since I wasn't planning on dyeing two pounds of coffee filters I couldn't use the recipe on the package. I needed a formula to break up the dye into smaller batches. I used 1/4 tsp powdered die to about 2 cups hot water.
After deciding how many filters I wanted to dye I filled a bucket with enough hot water to allow the filters to move freely. I kept track of how much water I put in the bucket so I would know how much die to add. Next I mixed the powdered dye with a small amount of hot water.
Once the dye was completely dissolved I stirred it into the larger bucket making sure the dye was evenly dispersed. I then added separated coffee filters until the bucket was full but the filters could still move around. I have found that slightly balling the filters up before adding them to the dye bath will help you to separate them later.
The package says to stir constantly. I don't think this is necessary. I experimented with time and treatment of the dye bath. Stirring the batch once every few minutes for about thirty minutes resulted in a nice even color. Leaving the filters in overnight produced bolder color. The less stirring the more color distortion I experienced. The variance is nice if you are using the filters for flowers. It gives them a more natural appearance. My best results came from reusing the dye bath to get various shades of them same color. I was also able to create some new shades by mixing different dye colors together. This is a great way to achieve your desired result.
After letting the coffee filters soak in the dye I put the bucket under a warm faucet gradually decreasing the temperature until it was cold and water coming from the filters runs clear. I then gently squeezed out the coffee filters, separated them and then hung them on a homemade clothesline outside. It takes them a few hours to dry based on them outside temperature and humidity.
You have the perfect gown shoes and accessories as well as your best girls (or guys) by your side, but what will they be wearing. After going to the ends of the earth to make sure every aspect of your wedding is unique you want the same for your bridesmaids. Think beyond lining your maids up in the same strapless tea-length taffeta red dress.
There are flattering styles in a wide range of colors available at almost all bridal retailers. This route can be easy and affordable and ideal if you have a traditional style. Put a twist on your attendants' attire by picking one color and allowing your girls to pick their own figure flattering style A great option if your maids have different body types. Another option,  pick one or two flattering silhouettes and a variety of colors that fall into your palette, then maids can pick their combo. Both of these options gives your maids some opinion in what they are wearing and should keep everyone happy.
If you just aren't digging the style of traditional bridesmaid dresses go with a great cocktail or summer dress. Look for a great pattern that compliments your pallete and the style. Checkout chain stores as well as online boutiques. Many like, Bevello feature emerging designers' styles at reasonable prices. Taking this direction guarantees your bridesmaids will want to wear it again.
If you still haven't found "the one" consider custom dresses. Take images of your favorite styles to a local seamstress and then work with her to develop a style that your maids will love and fits within their budget.
Say you fall in love with a dress and you know it is way out of your girls' budgets. There are plenty of online stores that offer bridal and bridesmaid dresses at a discount. Have your maids try the dress on in-store to get the correct size. If you cannot find the dress locally, at least have your maids professionally measured to ensure the size is correct. Keep in mind the dresses may also have to be altered, increasing the price. Tip: Some online discount bridal retailers are great to do business with, others are not reliable. Three of my favorites are House of Brides, NetBride and Pearl's Place.
You want them to look fabulous for your big day but you don't want to break their banks.