You are currently browsing the category archive for the 'Design' category.
Today Anthropologie launched their much anticipated online wedding dress shop, BHLDN. While the prices aren't what I consider budget friendly the designs are fabulous and very inspirational. I am loving these…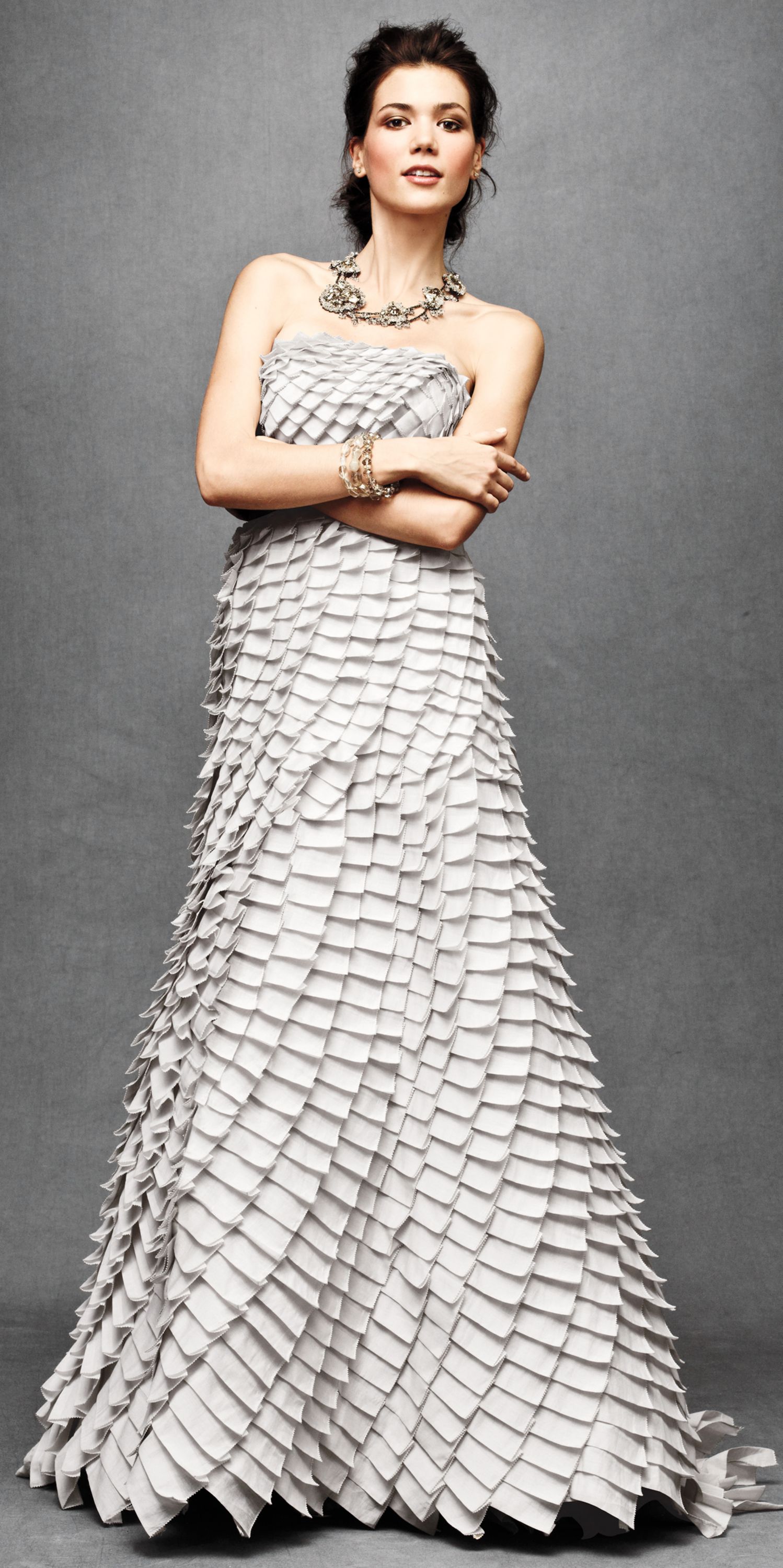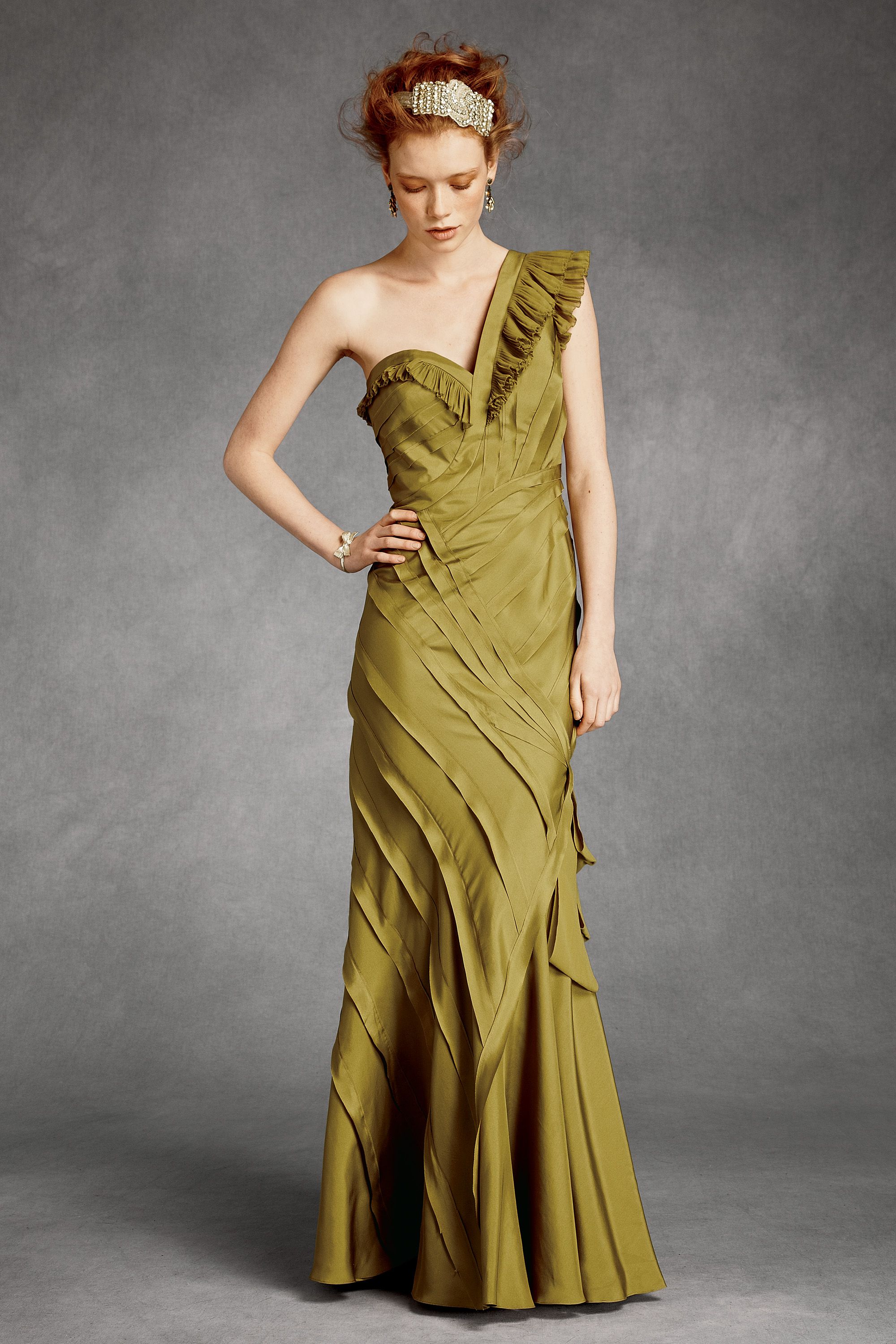 Aside from gowns they also have chic dresses and accessories that go far beyond the altar.  You can view the entire collection here.
While we are on dresses I have to highlight a few of my Grammy favorites. I have to admit I felt a wave a jealousy roll through me when I saw Rhianna was wearing Dior Haute Couture's handpainted and embroidered silk taffeta dress. I have been in love with that dress ever since spying it in the October issue of W.

Kelly Osborne looked fabulous in this purple ruffled Tadashi Shoji but my runner up to the Dior gown had to be the layered chartreuse frock worn by Best New Artist winner Esperanza Spalding.

Hmm…looks like I am having a ruffle moment. Happy Valentine's Day!
Yesterday prior to the fabulous Omaha Fashion Week Tuesday night runway show I had the pleasure of lending a hand in preparation for the Annual MCH Auxiliary Rummage Sale. I saw so many fabulous finds for the DIY bride. From beautiful candle stick holders to mini champagne flutes (so cute!) they have a little bit of everything and a lot if it is in bulk! The sale is held once a year so it is a collection of a years worth of goodies from households all over the metro. If you are on the lookout for the perfect pieces for your day be sure to check it out this weekend.
Rummage Sale
Where:
Washington County Fairgrounds — Arlington, Nebraska
When:
Thursday – September 16, 2010 — Time: 9:00 a.m.-7:00 p.m.
Friday – September 17, 2010 — Time: 9:00 a.m.-7:00 p.m.
Saturday – September 18, 2010 — Time: 9:00 a.m.-6:00 p.m.
BAG Sale Sunday – September 19, 2010 Time: 10:00 a.m.-2:00 p.m.

Proceeds to benefit the purchase of a OBIX® Perinatal Data System. This state-of-the-art technology enhances the entire patient prenatal experience for high risk mothers to be.
Happy Hunting!
why not a chicken wire frame. Huh?  Yeah chicken wire frame.
I stumbled across this project today on Ashley Ann Photography's blog and had to share. It's a great way to display escort cards and keep them from blowing away during your outdoor celebration.
For post-wedding use hang it in your kitchen, mud room or bill paying center to keep things organized. Such a cute idea, I think I will be incorporating on into my office makeover. Here is the how-to tutorial from The Project Girl. Enjoy!
So sorry I have been MIA these past few months. Its seems I have fallen into the summer debacle of an ambitious list of summer projects versus relaxing on the patio and weekend camping trips. Seems that latter is winning. That being said I am re-focusing the blog. It will still cover design with an emphasis in weddings and Omaha, but with a much more random subject base.
Today's subject…my favorite television fixation has returned, Project Runway! I love fashion and design but I think what I love even more is the show's brutal competitiveness, under pressure. Reminds me of college, a lot.
Quick Episode 1 Rundown: The contestants realize that they are not on the show quite yet and the first challenge is also the last phase of their audition process. All are required to take something out of their suitcases that must be seen on the runway. And then the twist…everyone must pass the item to their right. This leaves everyone with a wide variety of working materials. My favorite has to be Cassanova who pulled a brand new pair of Dolce & Gabbana pants from his suitcase only to see the later destroyed. Such a waste of good Dolce & Gabbana. The contestants are also given access to a room supplied with fabric by Mood.
I have to say I was not very impressed with the results of this first challenge. Apparently some of these designers (ahem, Ivy and Jason) need to check their attitudes at the door, since their creations can't back them up. Gretchen took home the top prize with her glamorous frock.
I am not a fan of those sleeves but considering that is what she had to work with I think she did a fabulous job. The rest of the dress is beautiful. Simple, glamorous with a very sexy twist in the back. I would wear it (which is how we all judge the designs, right). So no beef with the judges on this choice, however, I do have one with their choice for who was out. McKell ended up being the poor soul at the bottom of the list. This blue floral dress is what sent her packing.
I am in no way defending this design. The top scares me, even though that was what was "donated" to her. I am kind of diggin' the skirt with some adjustments. It wasn't good, however, it was no where near the worst of the worst (see Cassanova). I was really excited to see what this girl could do. The coats she has in her portfolio are amazing.
I searched high and low for more about her and possibly a place where some of her fabulous designs are for sale but came up empty. Apparently Salt Lake City doesn't have the fabulous fashion community Omaha does…boo. So with one disappointment down the drain I am looking forward to Thursday where I will discover my new favorite.
There is something so satisfying about working with an artist to create a custom piece of jewelry. I love the idea of having something unique that represents your own personal vision. These ideals put my husband and I in quite the predicament when shopping for his wedding band. After countless visits to jewelry stores and looking at hundreds of rings we couldn't find anything that was us. So we decided to find someone who could create our own. In the end the ring turned out amazing but the road to getting it wasn't as smooth as it could have been. Here are my tips on how make your custom jewelry journey as smooth as possible.
Search out an artist who style matches the piece you are looking for. If a jeweler has something similar to what you are looking for ask them to make adjustments to a piece they already designed. That way the artist is still working in their aesthetic.
Be patient. If you are thinking of ordering a custom piece for a certain date, i.e. your wedding, plan months in advance. And then take that times three. Things always take three times longer than you think they will. Leaving yourself a cushion so things can be re-worked if they aren't just right will ensure your end up with perfection.
Use pictures. We all speak in different language and many people are visual. By showing the artist a sketch they will have a better idea of what you are expecting.
Research your metals. This is especially important no matter where your purchase your ring.
In the end we ended up finding a fabulous etsy seller, L R Jewelry to create my husband's ring. We are absolutely ecstatic with the results. If you are looking for something local there are a some great jewelers right in Omaha. Check out Goldsmith Silversmith or Perspective Jewelry Design Studio both are located downtown or Silversmith Jewelry & workshop in Rockbrook Village.
No, I have not taken my new last name to some strange place…even though if it involved a Godfather obsession my husband would love it. Anyway drum-roll please… I was recently invited to become a member of the Omaha Craft Mafia! And I am a little excited.
The mafia is an awesome and talented group of Omaha artists, designers and crafters. The leave the gun, take the cannoli types (unless its a glue gun of course). We are part of a larger network of Craft Mafia around the world. While we can't be your go-to gals for the sinister acts carried out by more traditional mafias, we can be your source for all things handmade and creative in Omaha. Check out our blog for some nifty crafting tips and to meet the other wonderfully talented members. And stay tuned for our first show.
My husband and I love to go to the Omaha Farmer's Market on Saturday mornings. We love wandering around the old market checking out what's new and chatting up friends while they work their fruit and veggie stands. And my husband can get his sugar fix with a cinnamon roll the size of his head courtesy of The Parthenon.
While we were down there this past Saturday we stumbled upon Renee Gabriel Designs. I am in love with her bags.
They are so unique and funky. Plus since she has a little something for everyone's taste, her small clutches would make an awesome bridesmaid gift. An added bonus, the size is small enough to be chic but still holds your camera, keys, and cell phone. If you can't make it down to see her at the farmer's market, you can purchase her designs in her Etsy Shop.
Flower girls, if you choose to have them, can be one of the most adorable aspects of your wedding. Incorporating children adds innocence and purity to your wedding day.
In looking through the mainstream options available for you littlest attendants there seems to be few other options aside from the generic white flower girl dress.. While there are many who would disagree, there something about dressing a young girl up like a bride that I dislike. Not to mention the prices of these mini-bridal gowns are astonishing. I am a strong advocate of color on flower girls. It is a great place to throw in an accent that you were too afraid to put on your bridesmaids. A five-year-old will have no problem pulling off orange where your bridesmaids may not.
I am loving the whimsical "tutu" dresses I have seen popping up in weddings.
These lovely versions come from Omaha based Piccolina Designs. Definitely check out her Etsy shop. They add the perfect playful touch to any summer event.
To keep this style from looking a little over the top at your cathedral wedding consider letting it peek out from under something like this white frock from J.Crew. Then let your flower girl change out of the top layer for a fun transition to the reception. While your at J.Crew.com check out the other offerings in girls everyday dresses. Many of these would make a fabulous flower girl dress without breaking the bank. And they will wear it again!
One of my favorite trends showing up in weddings are chalkboards. From menus, table names and directing guests to the key moments of the celebration chalkboards are making their mark. They can be easily personalized and are affordable, plus chalkboards are versatile enough to fit in with just about any wedding style. They would be a great edition to the garden party theme I highlighted in a prior post.
I love these inspiration shots.

Inspired by these chic homespun looks I created a line of chalkboard invitations. Check them out on my Etsy shop.
"They are seriously telling their guests where to sit!" is the response many people have when hearing about a couple's plan to utilize escort cards and table numbers.
One of the most misunderstood parts of any wedding is the seating chart. Couple's loathe the time consuming task of placing each guest at a table and guest seem to want to rebel against elementary idea of assigned seating. However, the seating chart is one of the simplest ways to alleviate stress on your wedding day and ensure your guests have a great night.
Why this is a must for the couple. You just made your grand reception entrance and found your seat. Everyone is in their chairs waiting for dinner service to begin when you look up to see a straggling couple walk into the reception. They stand there trying to figure out where to go. Do they split up and take one of the seats with your new husband's second cousins and the other one with your mom's co-workers? Or do they grab one chair and try to squeeze in at the other table. That is one bad scenario but worse yet, what do they do if there aren't any seats left. Did one of your guests RSVPs get lost in the mail leaving you a few chairs short? I have seen this happen at a wedding. Nothing disrupts your reception like the staff quickly attempting to set up an extra table. With escort cards in place the couple would simply grab their cards and discretely take their seats.
Why this is a must for your guests. Of course ,this is your wedding day, but these are your guests. Being that late arriving couple without a place to sit is horrifying. Especially if you are left standing there waiting for your table to be set up. The odds that they were the ones who did not RSVP are slim. Weddings are a time to socialize, when you don't know who you are sitting with this can make for an uncomfortable situation. By placing people of similar age group and interests at the same table you can set your up guests for an interesting evening. You can put all your husband's college buddies at the same table far away from your grandmother and her sister but perhaps next to a table full of single girlfriends???. When your guests are having a good conversation and making new friends or re-connecting with old ones they will stay all night
My last reason is a purely a design one. If you have escort cards you can add another personalized aspect to your decor.
Like this garden inspired display from hgtv.com
Save yourself the stress, ensure your guests will have a great time and be sure to have a few blank seating cards for those who failed to RSVP.