You are currently browsing the category archive for the 'Fashion' category.
Today Anthropologie launched their much anticipated online wedding dress shop, BHLDN. While the prices aren't what I consider budget friendly the designs are fabulous and very inspirational. I am loving these…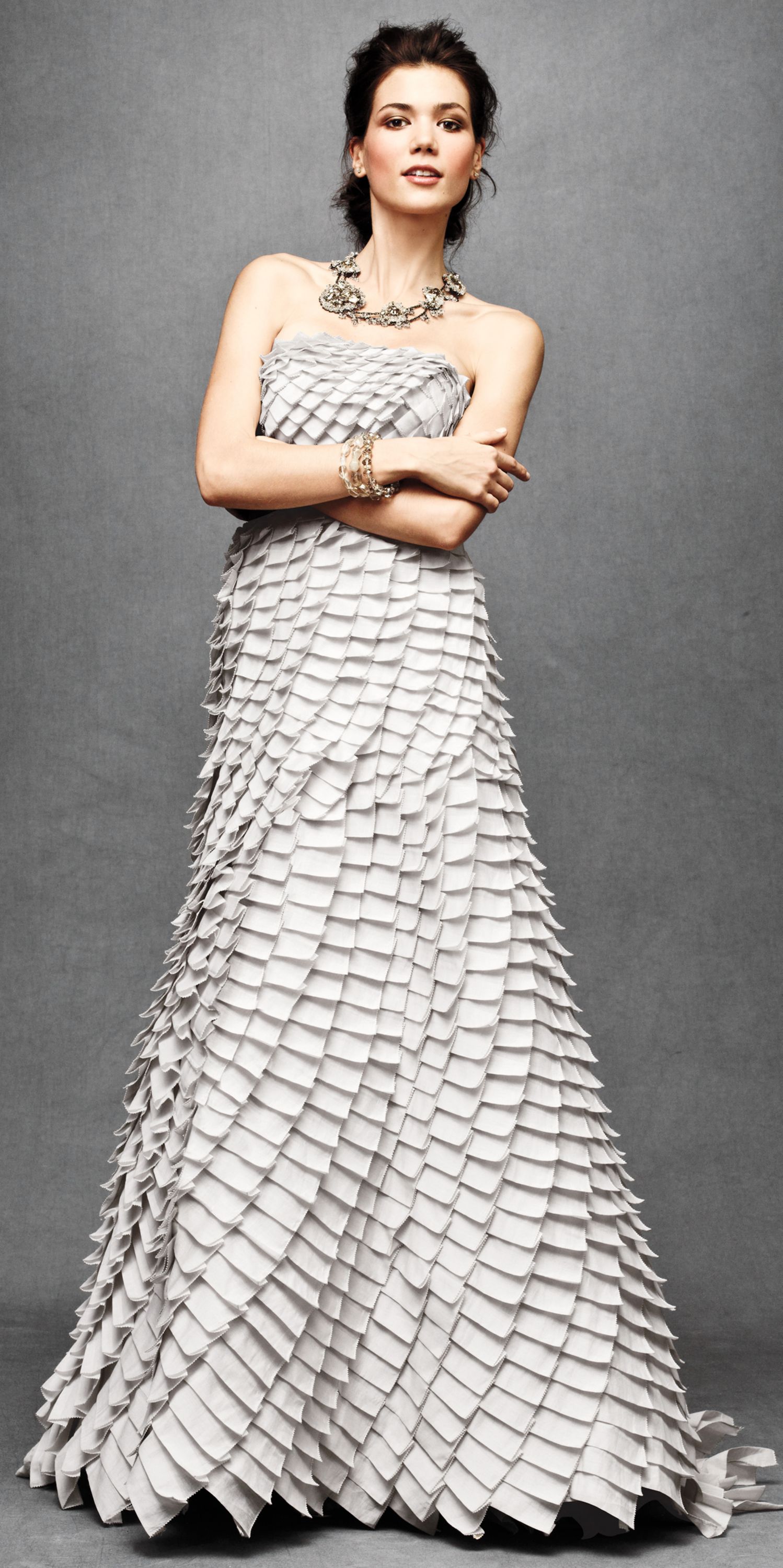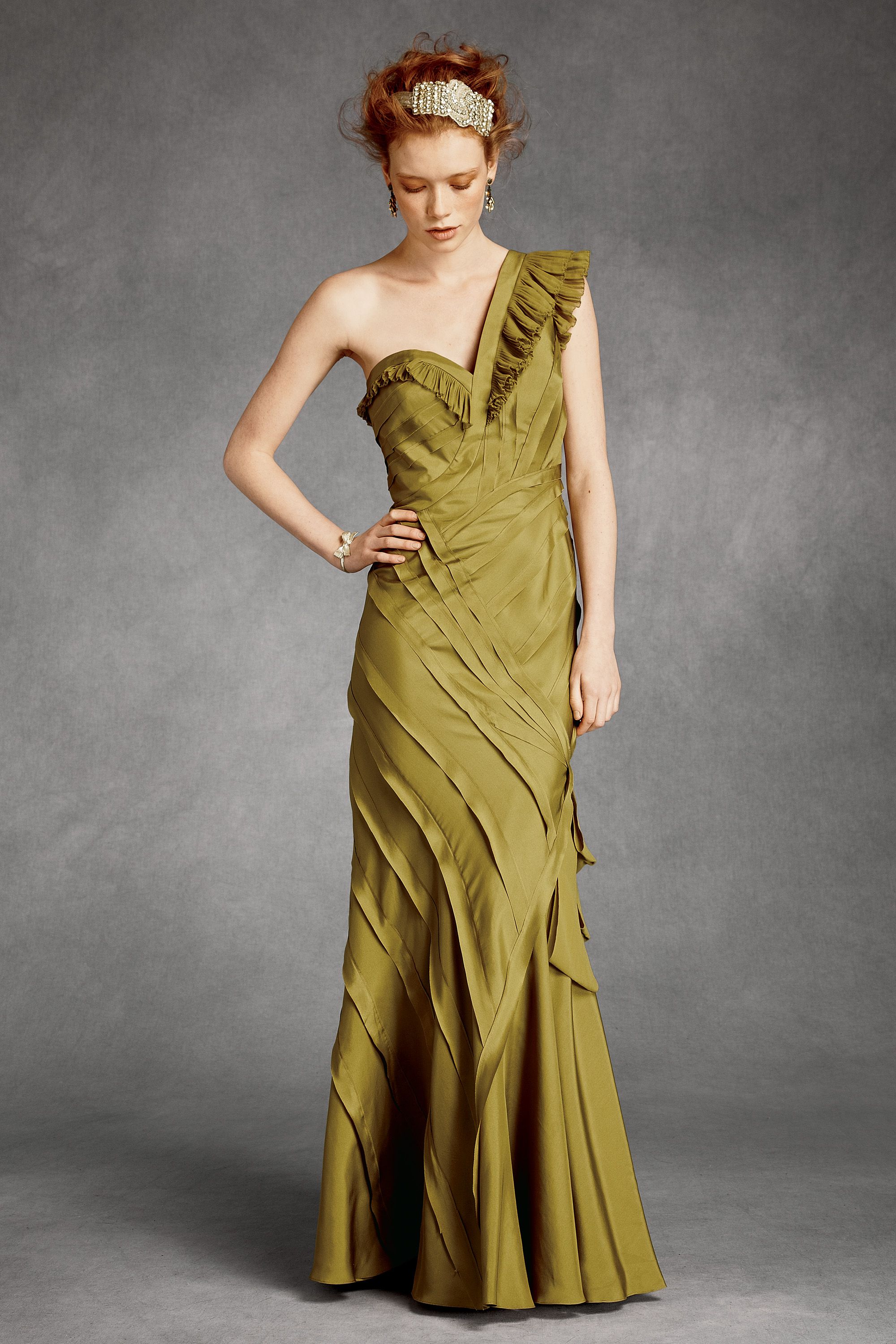 Aside from gowns they also have chic dresses and accessories that go far beyond the altar.  You can view the entire collection here.
While we are on dresses I have to highlight a few of my Grammy favorites. I have to admit I felt a wave a jealousy roll through me when I saw Rhianna was wearing Dior Haute Couture's handpainted and embroidered silk taffeta dress. I have been in love with that dress ever since spying it in the October issue of W.

Kelly Osborne looked fabulous in this purple ruffled Tadashi Shoji but my runner up to the Dior gown had to be the layered chartreuse frock worn by Best New Artist winner Esperanza Spalding.

Hmm…looks like I am having a ruffle moment. Happy Valentine's Day!
Yesterday prior to the fabulous Omaha Fashion Week Tuesday night runway show I had the pleasure of lending a hand in preparation for the Annual MCH Auxiliary Rummage Sale. I saw so many fabulous finds for the DIY bride. From beautiful candle stick holders to mini champagne flutes (so cute!) they have a little bit of everything and a lot if it is in bulk! The sale is held once a year so it is a collection of a years worth of goodies from households all over the metro. If you are on the lookout for the perfect pieces for your day be sure to check it out this weekend.
Rummage Sale
Where:
Washington County Fairgrounds — Arlington, Nebraska
When:
Thursday – September 16, 2010 — Time: 9:00 a.m.-7:00 p.m.
Friday – September 17, 2010 — Time: 9:00 a.m.-7:00 p.m.
Saturday – September 18, 2010 — Time: 9:00 a.m.-6:00 p.m.
BAG Sale Sunday – September 19, 2010 Time: 10:00 a.m.-2:00 p.m.

Proceeds to benefit the purchase of a OBIX® Perinatal Data System. This state-of-the-art technology enhances the entire patient prenatal experience for high risk mothers to be.
Happy Hunting!
So sorry I have been MIA these past few months. Its seems I have fallen into the summer debacle of an ambitious list of summer projects versus relaxing on the patio and weekend camping trips. Seems that latter is winning. That being said I am re-focusing the blog. It will still cover design with an emphasis in weddings and Omaha, but with a much more random subject base.
Today's subject…my favorite television fixation has returned, Project Runway! I love fashion and design but I think what I love even more is the show's brutal competitiveness, under pressure. Reminds me of college, a lot.
Quick Episode 1 Rundown: The contestants realize that they are not on the show quite yet and the first challenge is also the last phase of their audition process. All are required to take something out of their suitcases that must be seen on the runway. And then the twist…everyone must pass the item to their right. This leaves everyone with a wide variety of working materials. My favorite has to be Cassanova who pulled a brand new pair of Dolce & Gabbana pants from his suitcase only to see the later destroyed. Such a waste of good Dolce & Gabbana. The contestants are also given access to a room supplied with fabric by Mood.
I have to say I was not very impressed with the results of this first challenge. Apparently some of these designers (ahem, Ivy and Jason) need to check their attitudes at the door, since their creations can't back them up. Gretchen took home the top prize with her glamorous frock.
I am not a fan of those sleeves but considering that is what she had to work with I think she did a fabulous job. The rest of the dress is beautiful. Simple, glamorous with a very sexy twist in the back. I would wear it (which is how we all judge the designs, right). So no beef with the judges on this choice, however, I do have one with their choice for who was out. McKell ended up being the poor soul at the bottom of the list. This blue floral dress is what sent her packing.
I am in no way defending this design. The top scares me, even though that was what was "donated" to her. I am kind of diggin' the skirt with some adjustments. It wasn't good, however, it was no where near the worst of the worst (see Cassanova). I was really excited to see what this girl could do. The coats she has in her portfolio are amazing.
I searched high and low for more about her and possibly a place where some of her fabulous designs are for sale but came up empty. Apparently Salt Lake City doesn't have the fabulous fashion community Omaha does…boo. So with one disappointment down the drain I am looking forward to Thursday where I will discover my new favorite.