You are currently browsing the category archive for the 'Party' category.
Today Anthropologie launched their much anticipated online wedding dress shop, BHLDN. While the prices aren't what I consider budget friendly the designs are fabulous and very inspirational. I am loving these…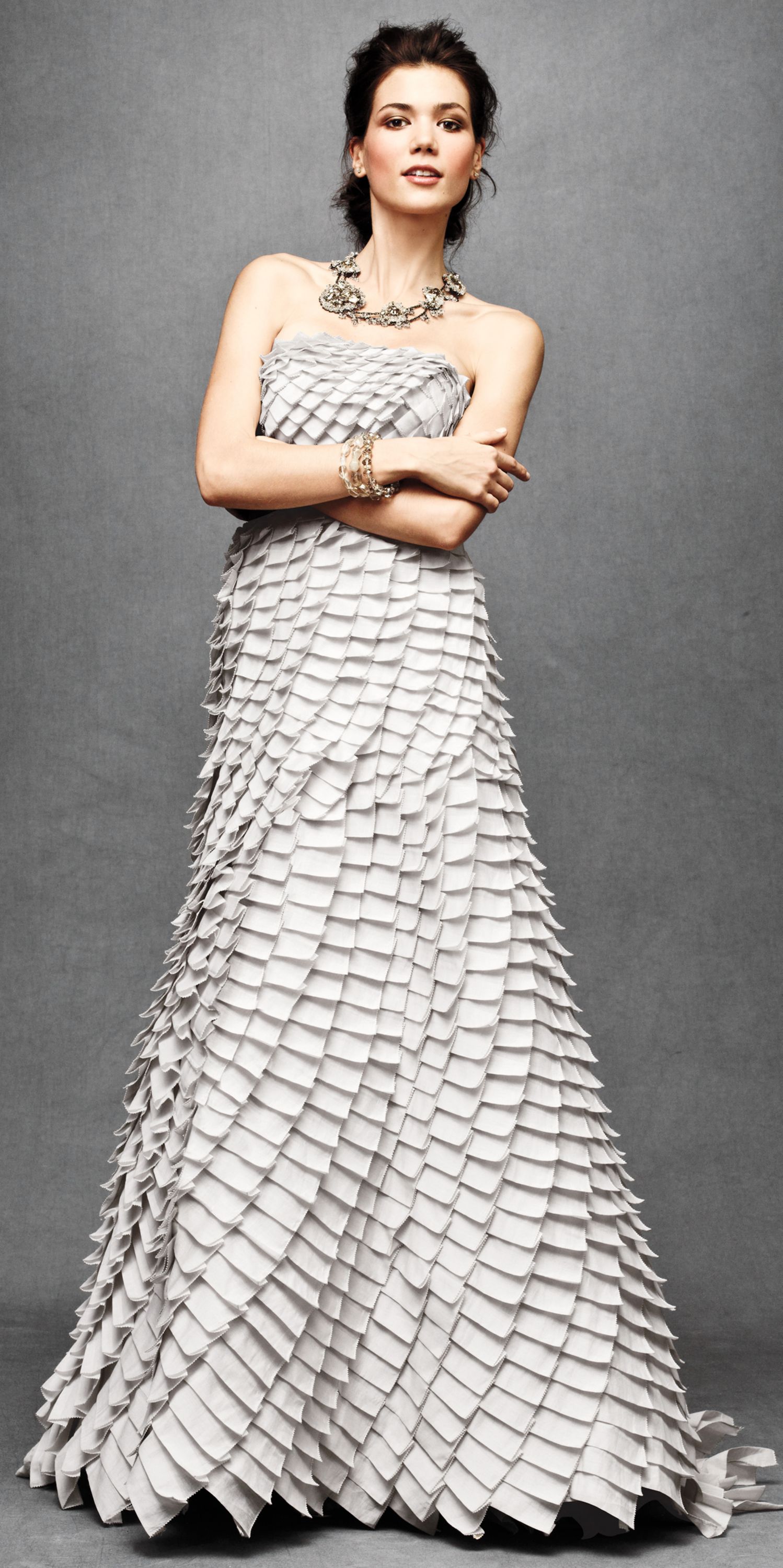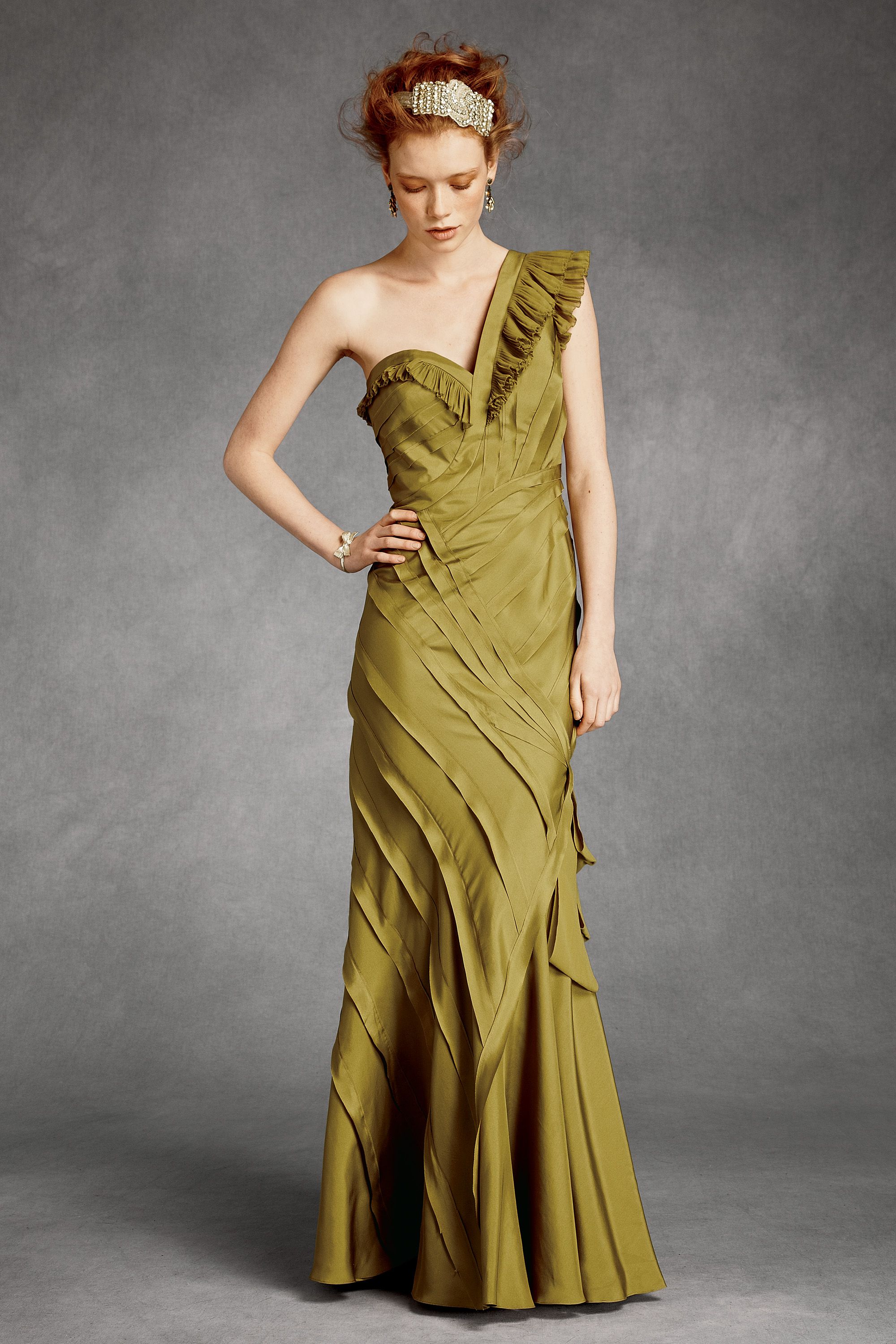 Aside from gowns they also have chic dresses and accessories that go far beyond the altar.  You can view the entire collection here.
While we are on dresses I have to highlight a few of my Grammy favorites. I have to admit I felt a wave a jealousy roll through me when I saw Rhianna was wearing Dior Haute Couture's handpainted and embroidered silk taffeta dress. I have been in love with that dress ever since spying it in the October issue of W.

Kelly Osborne looked fabulous in this purple ruffled Tadashi Shoji but my runner up to the Dior gown had to be the layered chartreuse frock worn by Best New Artist winner Esperanza Spalding.

Hmm…looks like I am having a ruffle moment. Happy Valentine's Day!
Yesterday prior to the fabulous Omaha Fashion Week Tuesday night runway show I had the pleasure of lending a hand in preparation for the Annual MCH Auxiliary Rummage Sale. I saw so many fabulous finds for the DIY bride. From beautiful candle stick holders to mini champagne flutes (so cute!) they have a little bit of everything and a lot if it is in bulk! The sale is held once a year so it is a collection of a years worth of goodies from households all over the metro. If you are on the lookout for the perfect pieces for your day be sure to check it out this weekend.
Rummage Sale
Where:
Washington County Fairgrounds — Arlington, Nebraska
When:
Thursday – September 16, 2010 — Time: 9:00 a.m.-7:00 p.m.
Friday – September 17, 2010 — Time: 9:00 a.m.-7:00 p.m.
Saturday – September 18, 2010 — Time: 9:00 a.m.-6:00 p.m.
BAG Sale Sunday – September 19, 2010 Time: 10:00 a.m.-2:00 p.m.

Proceeds to benefit the purchase of a OBIX® Perinatal Data System. This state-of-the-art technology enhances the entire patient prenatal experience for high risk mothers to be.
Happy Hunting!
why not a chicken wire frame. Huh?  Yeah chicken wire frame.
I stumbled across this project today on Ashley Ann Photography's blog and had to share. It's a great way to display escort cards and keep them from blowing away during your outdoor celebration.
For post-wedding use hang it in your kitchen, mud room or bill paying center to keep things organized. Such a cute idea, I think I will be incorporating on into my office makeover. Here is the how-to tutorial from The Project Girl. Enjoy!
Flower girls, if you choose to have them, can be one of the most adorable aspects of your wedding. Incorporating children adds innocence and purity to your wedding day.
In looking through the mainstream options available for you littlest attendants there seems to be few other options aside from the generic white flower girl dress.. While there are many who would disagree, there something about dressing a young girl up like a bride that I dislike. Not to mention the prices of these mini-bridal gowns are astonishing. I am a strong advocate of color on flower girls. It is a great place to throw in an accent that you were too afraid to put on your bridesmaids. A five-year-old will have no problem pulling off orange where your bridesmaids may not.
I am loving the whimsical "tutu" dresses I have seen popping up in weddings.
These lovely versions come from Omaha based Piccolina Designs. Definitely check out her Etsy shop. They add the perfect playful touch to any summer event.
To keep this style from looking a little over the top at your cathedral wedding consider letting it peek out from under something like this white frock from J.Crew. Then let your flower girl change out of the top layer for a fun transition to the reception. While your at J.Crew.com check out the other offerings in girls everyday dresses. Many of these would make a fabulous flower girl dress without breaking the bank. And they will wear it again!
"They are seriously telling their guests where to sit!" is the response many people have when hearing about a couple's plan to utilize escort cards and table numbers.
One of the most misunderstood parts of any wedding is the seating chart. Couple's loathe the time consuming task of placing each guest at a table and guest seem to want to rebel against elementary idea of assigned seating. However, the seating chart is one of the simplest ways to alleviate stress on your wedding day and ensure your guests have a great night.
Why this is a must for the couple. You just made your grand reception entrance and found your seat. Everyone is in their chairs waiting for dinner service to begin when you look up to see a straggling couple walk into the reception. They stand there trying to figure out where to go. Do they split up and take one of the seats with your new husband's second cousins and the other one with your mom's co-workers? Or do they grab one chair and try to squeeze in at the other table. That is one bad scenario but worse yet, what do they do if there aren't any seats left. Did one of your guests RSVPs get lost in the mail leaving you a few chairs short? I have seen this happen at a wedding. Nothing disrupts your reception like the staff quickly attempting to set up an extra table. With escort cards in place the couple would simply grab their cards and discretely take their seats.
Why this is a must for your guests. Of course ,this is your wedding day, but these are your guests. Being that late arriving couple without a place to sit is horrifying. Especially if you are left standing there waiting for your table to be set up. The odds that they were the ones who did not RSVP are slim. Weddings are a time to socialize, when you don't know who you are sitting with this can make for an uncomfortable situation. By placing people of similar age group and interests at the same table you can set your up guests for an interesting evening. You can put all your husband's college buddies at the same table far away from your grandmother and her sister but perhaps next to a table full of single girlfriends???. When your guests are having a good conversation and making new friends or re-connecting with old ones they will stay all night
My last reason is a purely a design one. If you have escort cards you can add another personalized aspect to your decor.
Like this garden inspired display from hgtv.com
Save yourself the stress, ensure your guests will have a great time and be sure to have a few blank seating cards for those who failed to RSVP.
Since I love paper and am always looking for an easier, cheaper, greener way to create, it only seems natural that my latest obsession is paper flowers. I have an upcoming party where I am hoping to use paper flowers for the décor. I am using coffee filters and have tried painting them which is tedious and does not result in the look I was going for. I decided to try dyeing them. Here is how I did it using RIT dye.
Since I wasn't planning on dyeing two pounds of coffee filters I couldn't use the recipe on the package. I needed a formula to break up the dye into smaller batches. I used 1/4 tsp powdered die to about 2 cups hot water.
After deciding how many filters I wanted to dye I filled a bucket with enough hot water to allow the filters to move freely. I kept track of how much water I put in the bucket so I would know how much die to add. Next I mixed the powdered dye with a small amount of hot water.
Once the dye was completely dissolved I stirred it into the larger bucket making sure the dye was evenly dispersed. I then added separated coffee filters until the bucket was full but the filters could still move around. I have found that slightly balling the filters up before adding them to the dye bath will help you to separate them later.
The package says to stir constantly. I don't think this is necessary. I experimented with time and treatment of the dye bath. Stirring the batch once every few minutes for about thirty minutes resulted in a nice even color. Leaving the filters in overnight produced bolder color. The less stirring the more color distortion I experienced. The variance is nice if you are using the filters for flowers. It gives them a more natural appearance. My best results came from reusing the dye bath to get various shades of them same color. I was also able to create some new shades by mixing different dye colors together. This is a great way to achieve your desired result.
After letting the coffee filters soak in the dye I put the bucket under a warm faucet gradually decreasing the temperature until it was cold and water coming from the filters runs clear. I then gently squeezed out the coffee filters, separated them and then hung them on a homemade clothesline outside. It takes them a few hours to dry based on them outside temperature and humidity.
There are hundreds of ways to add personality to your wedding. One that can be affordable and makes a great keepsake is your guest book. Use this opportunity to really show off your theme or unique personal style. When it comes to having guests leave their imprint on your wedding the possibilities are endless.
If you are a traditional couple than you will be looking for something that illustrates the classic, elegance of your day. However, this doesn't limit you to what is on the shelf at your local bridal store. There are some beautiful options that still show off your personality like this music inspired one from Elegantly Bound.
Instead of just a signature have guests also leave their address. It will come in handy for thank you notes. Another idea I love is encouraging guests to leave notes with designated spaces. With a fun layout, like the one below, everyone will be more inclined to share.
Coffee table books are one of my favorites. They are still on the traditional side but allow you to show off your personality a little more. Destination wedding? Look for one that shows off the beauty and culture of your location. Are you into art or getting married at an artistic venue? Pick out a book that showcases your favorite artist or a dominant one from your venue. Can't find a book that matches your extra unique style? Have your engagement photos made into a book with space for guests to sign. Blurb is a great resource for creating your own professional quality book. Be sure to look for pens that do not smudge to keep everything legible.
Utilizing art as a signing medium will leave you will a beautiful piece that you can display in your home. Have an artistic friend paint a canvas with colors that match your décor or purchase a simple graphic print. Pick out colored markers or pens that coordinate and ask guests to sign the art. Experiment with different colors and pen tips to get a unique effect. No artistic resource? Have your guests right their notes on small colorful paper cards and then later use a paper mache technique to attach them to a larger piece of paper or canvas.
Picking an object that shows off your style has also become a trend. From over-sized wine bottles and ceramic platters to guitars and even furniture, the possibilities are endless when it comes to having your guests sign something.
Make sure its you and you'll have a guest book to treasure for a lifetime.
You have started to plan the over-the-top, elegant wedding your have been envisioning since you were five. The only obstacle in your way—the budget. No worries. You can still wow your guests and not max out your credit cards.
Start with white. White is ultra traditional and has made a big come back in the last few years. The key to keeping it fresh—stick with white color palette with some black accents. It will be easier on your wallet and lead to simpler planning.
For your invitations stick with a basic design on white paper. Colored paper is often much more expensive. Have your stationer use a script font to convey over-the-top elegance. Think about adding a monogram or a script element that can be used throughout the day. Using print is an affordable way to bring all aspects of your day together. Outline your ceremony in a simple, coordinating two-sided program.
White flowers are easy to come by. Therefore you will have some flexibility in what type of flower your are using. Instead of having your florist search for the perfect shade of purple hydrangea (which also happens to be out of season) they can utilize a variety of in-season more affordable blooms.
Calla lilies are affordable and work great in different types of arrangements. Have your maids carry a single calla lily for a simple and elegant effect. Add a two large arrangements at the front of your ceremony space. Reuse your ceremony decor on your sign-in or cake table at the reception. Vary short and tall calla lily centerpieces throughout your reception venue to create drama. And added bonus—calla lilies are easy to arrange and display if you are thinking about creating your own arrangements. For an added touch wrap your vases in thick white ribbon with a thin black ribbon accent.
Candles are an inexpensive way to give a room a romantic, elegant feel. Various heights of white candles will add interest. Look for interesting clear candle holders like these from CB2.com. Then mix in smaller tea lights for a beautiful glow. Let a votive candle do triple duty by serving as an escort card, favor and part of your decor. You can use this rub-on technique to add each guest's name and table assignment to the candles. Give a trusted friend or relative the job of periodically relighting the candles to keep the room glowing all night. Want to dress up your tables a little more? Many times event venues will include white linens at no extra charge. Add black table runners or chair ties to bring it up a notch. Efavormart.com has some amazing prices on chair ties and table runners. If you want to take it a step further have a custom stencil of your monogram created. Then use fabric paint to create custom table runners or unique bride and groom chair ties.
Use clothing to add in your black accents. Keep your maids simple in black dresses. Allowing them to pick the style ensures everyone will find something they like and definitely be able to wear again. You can add a sash or a fun piece of jewelry to tie them all together. The guys will look great in traditional tuxes.
By utilizing the basics and adding small details you can pull off the traditional style you crave without breaking the bank.
Most of the time ideas come from an unexpected place. One of my favorite ways to use inspiration is  transfering it from one genre to another. I have created a lot of bachelorette and bridal shower invitations in the past few years. Recently, a friend requested a few design options for an event she is hosting. I was in definite need of some fresh bachelorette design ideas. The martini glass/trendy gal silhouette I have used as a fallback for so long was growing tired and over-done. Most recently my fixation has been with art deco-style furniture—bold patterns and finishes in classic styles. I stumbled upon this set-up from House to Home's Room Inspiration page, while searching for a Louis XV chair.
While I love the the Louis XV chair (one of my favorites), the high gloss black bureau is even better. And there you have it. That little table led to a whole new era for bachelorette party and bridal shower invitations. Check out the one below, there are more to come!